Obituary for Billy Wayne Printy
On the afternoon of May 2, 2018, Billy Wayne Printy peacefully entered into the Presence of his Savior, Jesus Christ, with his loving wife and sons at his side. 69 year old Billy was the son of William C. Printy and Constance G. Printy. He was brother to Sandra Lutz and a still-born twin sister, Mary Lee. He is now joyfully reunited with all his birth family in Heaven.

Even though Billy was ready to enter into the Presence of his Loving Heavenly Father, he reluctantly left behind his wife of 46 years, JoAnn (Jodi Stolinski) Printy and his most amazing sons, Brandon Wayne Printy and Brian Wayne Printy, beautiful daughter-in-love, Lisa (Rogers) Printy, and sweet loving daughter, Kimberly Dawn Timmermann-Spencer and her daughter, Meagan.

Due to failing health, for years Billy had prayed that when it was his time, he would "go to sleep and wake up in the Presence of the Lord" and that is just what he did. In the meantime, he continued to serve his God by loving people. Very often, his phone would ring with calls from family and friends who desired him to pray on their behalf. He was an active member of Tree of Life Church. Over many years he lovingly and readily served in many ways: rocking babies in the nursery, driving the bus to transport teens, joyfully singing in the choir, and trimming hedges and maintaining flower beds, often in the blistering Texas heat after a long day at his auto detail shop. During his detail shop years, he loved to bless the pastors with surprise detail jobs on their vehicles. One of Billy's favorite ways to serve was to drive the limousine golf cart on Sunday mornings, with his ready smile and welcoming conversation, making guests and members of the church feel the Love of God in action as he escorted them to service. No request was too large or too small for Billy - it made his heart happy to serve a bottle of cold water to men and women working around the church campus or to spray weeds to beautify the church property.

Billy was proud of the fact that he was a "hometown boy" born and raised in New Braunfels. His education started at Carl Schurz Elementary School and he graduated a proud "Cougar" from Canyon High School. He loved this town and its people. He was always ready to be a part of "whatever" was happening around town. For many years, he was an early morning coffee drinker at the Hill Country Inn Restaurant - where he would often be seen with a coffee pot in hand, refilling everybody's cup. During his retirement, he could frequently be found sitting on a bench, by the Plaza, soaking in local activity and giving directions to tourists with a smile. He would often recount how, over his 69 years, he had seen "little ol' New Braunfels" grow and change dramatically - often wearing his cap that said "Local Legend - If you don't know me, you're not from around here."

Billy was always ready to extend a helping hand. He rescued many stranded drivers, including his own wife and boys and family and friends - but would help a stranger just as quickly with his willing heart and great knowledge of automobiles.

For many years, Billy was a member of the local Civil Defense Club - a group of volunteers who stayed ready to assist local law enforcement with whatever was needed from parking and traffic control at Wurstfest to assisting in disasters. One of his saddest but proudest memories was being part of a group that launched boats right on Union Street during the dreadful night of the 1972 flood in NB, rescuing many from their devastated homes.

Service was part of Billy's very being and that was evidenced in his business life. He owned one of the last full service gas stations in New Braunfels. "The Corner Gulf" was more than a place to get your gas tank filled - you left there with windshields sparkling, confidence that things were " good under the hood" and a cheerful word to fill your heart. When the 1980 oil glut made full service stations a thing of the past, Billy continued to serve his community at "Bill's Detail Shop" for 20 years. He was renowned for his expertise with a buffer and he delighted himself and his customers with his dazzling handiwork on a car's exterior. But one of Billy's finest services to his community was employing men who found getting a job difficult due to past criminal offenses or drug and alcohol use. Billy knew the value of a "redeemed life" and he would welcome them into his heart and his business, giving them a Bible and teaching them discipline and a trade. Billy also welcomed teenagers needing a first job, both at the service station and the detail shop, where many young men received great preparation for life and had a good time doing it. They left with good life skills and a love for Billy in their hearts.

Billy was so pleased that his home was a gathering place for the neighborhood kids and friends of his own children - they all found another "dad" who put up a basketball goal for them, let them turn his backyard into a "Double Dare" obstacle course and generally accepted them and loved them as his own. He was so proud to see what fine adults his sons and these youngsters grew into and was thankful for every opportunity to speak into their lives.

Another area of service that thrilled Billy's heart was Little League Baseball, both as a proud and active Dad as well as a coach, with son Brandon assisting. What a happy day when their Mabry Enterprise team won the 1991 National Little League Pee Wee Championship with Billy coaching son Brian's team. Many of his employees and the "kids" who played in his yard and on his little league teams have come back as fine men, thanking Billy for his investment in their lives.

Billy's greatest earthly passion was his family but fishing was a close second. He could spend hours "fishing" even if he wasn't "catching." The more hours and days spent in the salt water of the Gulf Coast in his boat, the better. His annual trek to the "Family Weekend" was highlighted by the times spent fishing with the guys - big and little - and Kristyn. One of his fondest memories was the time he helped at a fishing event for special needs kids.

Billy is also survived by sister-in-love Janie (Nelson) Remmler, brothers-in-love Carl (Cynthia) Stolinski and Steve (Laura) Stolinski, and many nephews and nieces, great-nephews and nieces and great-great nephews and niece - who all love "Uncle Billy" and were much loved by him. Special thanks to Lacey Jackson for her sweet friendship with Billy and to Dr. Carlos Campos and Dr. Stephen Carey and their staff who lovingly served Billy for the past 19 years as he "fought the good fight of faith" - helping him physically as he spiritually stayed close to his God. A most heartfelt thank you to our loving Tree of Life Church family - with their love and prayers we found a place to grow as a family and we were given unfailing support in some very difficult seasons.

A joyful celebration of Billy and his life will be held on Wednesday, May 9, 2018, at 6:30 p.m.at Tree of Life Church in New Braunfels, TX. Donations in Billy's memory may be made to the Tree of Life Church Missions Department or Building Fund at the celebration service or by mail to Tree of Life Church, 5513 IH 35 South, New Braunfels, TX 78132.
To send flowers or a remembrance gift to the family of Billy Wayne Printy, please visit our Tribute Store.
Previous Events
Service
Tree of Life Church
5513 IH 35 S
New Braunfels, TX 78132
Joyful celebration of Billy and his life.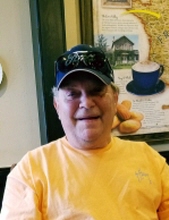 Thank you for sharing your
memory of Billy
Provide comfort by sending fresh
flowers from our local florist.
No thanks, please don't show me this again.